Just like their language, which is often spoken in a mashup of Arabic, French, English and Berber, Moroccan food is influenced by numerous cultures including Berber, Arabic, Andalusian and Mediterranean.
You may be familiar with some Moroccan cuisine already–couscous, for example, is widely eaten in North America–but no doubt you'll become familiar with some new items that will have you pining for the real deal long after you've returned home.
Here are some of the more popular Moroccan dishes you'll experience:
Moroccan Khobz (bread)
Khobz, a round flat loaf of bread, is served at most every meal in Morocco. You'll find baskets of it at breakfast, lunch and dinner and you'll see piles of it being sold by street and market vendors morning, noon and night. It's typically made with white flour as well as whole wheat and / or semolina flour. It's meant to be the delivery device for vegetables, meat and sauces but it is just as delicious eaten on its own.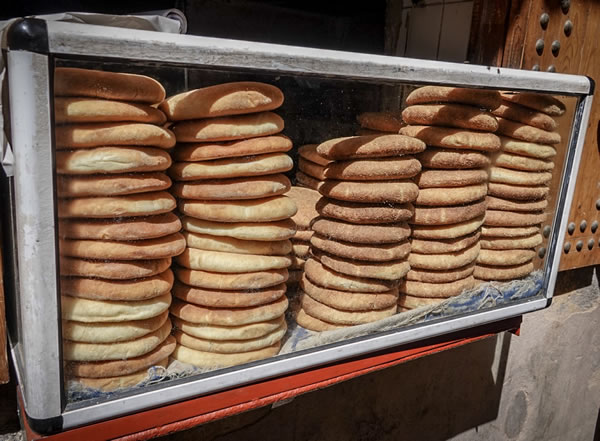 Moroccan Salads
When you hear "salad" do you conjure up a bowl of greens topped with raw vegetables? In Morocco, salad means something very different. When Moroccan salads are brought to the table, it will be as a multitude of side dishes that includes both raw and cooked vegetables. There will likely be enough for a meal but don't gorge yourself too much because the entree won't be far behind!
Harira Soup
This traditional Moroccan dish is a tomato-based soup and may include lentils and chickpeas. Often served as a starter, it can be a meal unto itself (especially when eaten with khobz!). Look for it in most restaurants.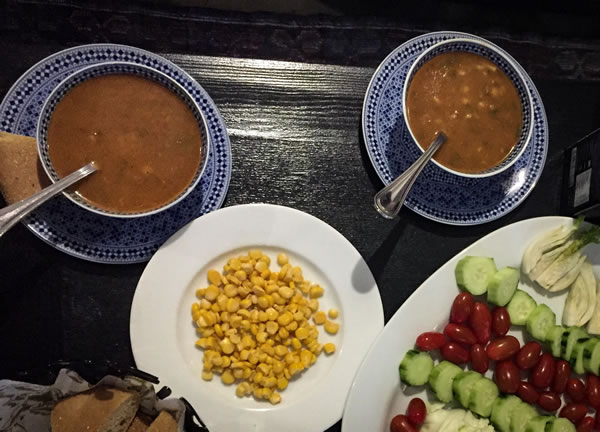 Tagine
Tagine is a slow-cooked stew made in a traditional Berber tagine–a clay or ceramic pot. It usually includes meat with vegetables but a vegetarian option is always available.
The tagine is placed on an open fire with the food carefully stacked inside. Once completely cooked, it's served in the tagine on the table. It's then shared, family-style, with everyone.
The best and most delicious way to eat a tagine is by scooping and sopping it up with khobz.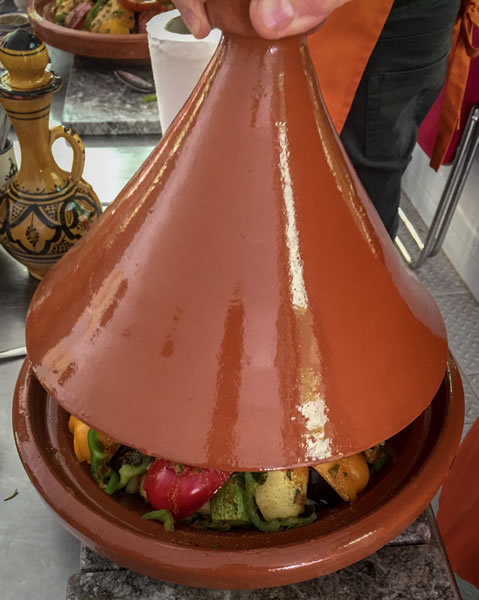 Couscous
This popular grain is served in a similar fashion as tagine in that vegetables and meat are piled into a delicious mound. Unlike tagine, however, the couscous is cooked separately (more like a rice) and then the main course is added on top later. The use of couscous goes back to the 7th century when the Berbers used it.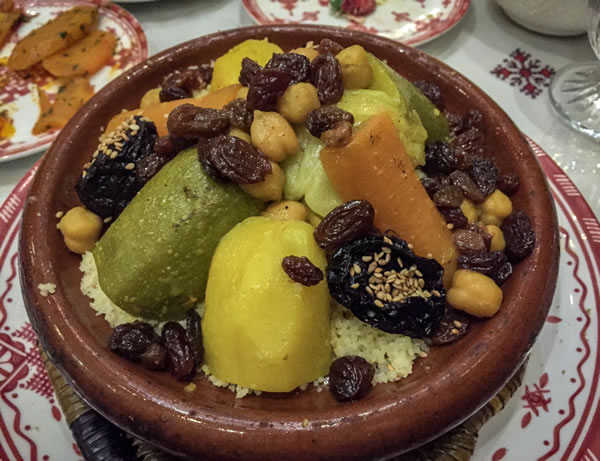 Pastilla (or bastilla)
This large pastry is a round dough filled with a variety of items that may include spaghetti-like pasta, vegetables and / or meat. Large enough to share, you may not want to because if you find one prepared exactly to your liking, it might become one of your favorite dishes while in Morocco!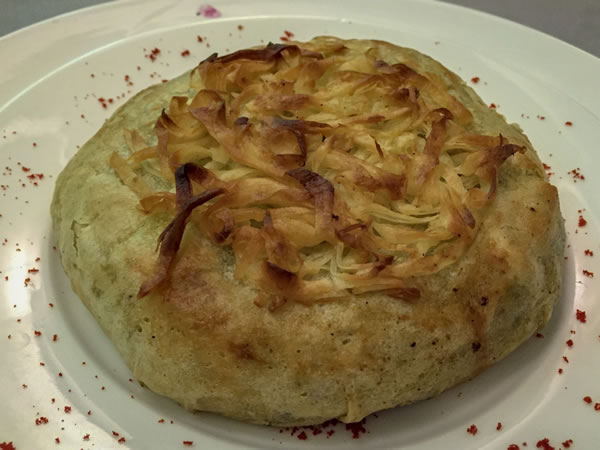 Dessert
Got a sweet tooth? Definitely save room for dessert! You're sure to discover something you'll love from fresh fruit to pastries to pudding (or all of the above!). No matter what, they are sure to be beautifully presented and hard to resist.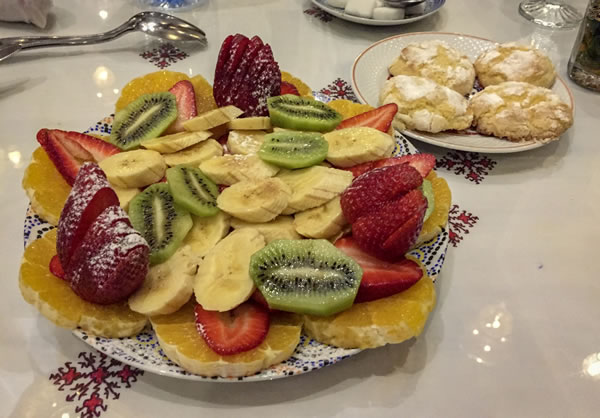 Can't wait to try it for yourself? Join us on one of our women-only Morocco tours including:
Women-only tour to Morocco – February 2020
Women-only tour to Morocco – Fall 2020
Women-only tour to Morocco – February 2021
See our photo gallery of Morocco!