1. SPECIAL COVID CONSIDERATIONS
6. TECHNOLOGY including CELL PHONES, CAMERAS and COMPUTERS

1. SPECIAL COVID CONSIDERATIONS
Q. Will I be required to have a negative Covid-19 test result to join this tour?
A. At this time, you will not be required to provide a negative Covid-19 test result in order to participate in our tours. And Scotland does not require a negative Covid-19 test either.
We will provide you with all entry information in advance so you will be prepared.
Q. Do I need to have a negative Covid-19 test to return home?
A. Some countries may require a negative Covid-19 test prior to boarding your return flight home. Usually this is no more than 72 hours prior to boarding the flight. Alternately, in some cases, you may show proof of having recovered from Covid-19.
We will do our best to keep you apprised of this situation but, ultimately, it is your responsibility to abide by the mandates, laws and recommendations put forth by your country's government. If a negative test is required, we will make time in the itinerary to get tested to ensure that anyone who needs one has results before departure.
Q. Will masks be required during this tour?
A. Masks will not be required during the tour. If, however, you find yourself with any symptoms that are associated with Covid, we ask that you mask up for the protection of others.
There are still inherent risks with traveling while Covid-19 is actively occurring and one's health cannot be guaranteed by WanderTours.

2. GETTING TO SCOTLAND
Q. What's the best airline to take and best way to fly into Scotland?
A. Usually people book their flights based on price and loyalty programs. Cost will be different depending on where you are flying from. In any case, note that this tour starts and ends in Edinburgh.
Q. Will I be met at the airport upon arrival in Edinburgh?
A. Yes! Airport transportation in Edinburgh is included in the cost of the tour as long as you arrive the day of the tour or book any early hotel rooms through us.
Q. Do I need a visa to enter Scotland?
A. Residents of many countries do not need a visa to enter Scotland. This website lists the countries from which, if you are a passport holder, you do not need a visa.
Q. If I want to arrive prior to the start of the tour or stay on beyond the last day, can you book additional hotel nights for me?
A. Yes, of course we can. As soon as you have your flights booked, let us know which nights you'll need additional accommodations for and we can handle that (based on availability, of course).

3. WHILE VISITING SCOTLAND
Q. Will bottled water be readily available on the tour?
A. Bottled water is not included at our request – we encourage you to bring your own reusable bottle for the tour. Bottles can be refilled at any of the hotels or restaurants during your time in Scotland.
Q. What kind of food should I expect on the tour?
A. Scotland's food scene has changed a lot over the years and there is much more variety and higher quality food available now than ever before. In addition to the typical Scottish food that you won't want to miss, there will be lots of international options available as well.
If you have special dietary needs or preferences, expect to be flexible. Those who are gluten-free may find some options, but vegetarians may not find much tofu, tempeh or protein beyond meat and fish.
Expect to find lots of tea and coffee available but if you are a decaf drinker, consider bringing decaf Starbucks VIA or your own tea bags as decaf can be more difficult to find.
Q. Do you recommend any special vaccinations for this trip?
A. There's nothing you need specifically for Scotland. However, you'll want to consult with a travel doctor for medical advice.
Q. I get motion sickness. Will I be able to sit in the front of the van/bus on the tour?
A. We do try to make our tour participants as comfortable as possible, so please tell your tour guide(s) if motion sickness is an issue for you. We can't guarantee the front seat of the van or bus every time as it really depends on how many people in the group tend towards motion sickness or have other medical issues where they may need a different seat. We suggest that you bring ginger, wrist bands or ask your doctor about a prescription to help mitigate motion sickness.

4. HOTEL INFORMATION
Q. Do you know the name of the hotel the tour will be starting from yet?
A. Hotel information is listed on the tour itinerary, but we usually don't have this confirmed until right before the tour (in case there are any last-minute changes). A complete hotel list will be provided a couple of weeks in advance of the tour start date and we encourage you to leave this with family and/or friends in case of an emergency. We can also book you a room in the same hotel where the tour starts if you wish to arrive early and explore the city on your own or rest from your travels.
Q. Will you be sending a list of hotels?
A. All of our hotels are listed on our itinerary and you will receive a list of hotel contact information about two weeks before departure (note: it is subject to last-minute changes).
Q. Will hotels have fitness centers and/or safe walking routes and will there be time to get some exercise?
A. Some hotels do have fitness centers but it's best to check the hotel websites on the Scotland itinerary for specific amenities. You will also have several opportunities during the tour to explore on your own. There are lovely walks in Scotland and the cities, including Edinburgh, are safe for walking about.
Q. Will the hotels provide shampoo and conditioner like they do in some countries?
A. Most hotels will have shampoo and conditioner in the bathrooms. If you like, you can always purchase shampoo and conditioner once you arrive if you don't want to travel with it or you run out along the way.
Q. Are there hair dryers at the hotels?
A. Hair dryers should be available at all of the accommodations.
Q. Are my items safe in my hotel room?
A. Your items *should* be safe, but we recommend that you carry small luggage locks to secure the zippers together on your luggage so that no one is tempted to peek in your bag.
When something goes missing, it's usually later found in the bottom of one's luggage. In the meantime, hotel staff are the first to be blamed. It's best to keep your items (especially valuables) locked up so that this is not even a question. Most hotel rooms should also have safes where you can put small valuables.

5. PACKING INFORMATION
Q. Is it OK to have more than just a carry-on for the tour (in other words, checked bags)?
A. While you will be more comfortable moving around with fewer bags, you likely won't be the only one with checked luggage.
For international flights, note that some airlines have a strict weight limit for carry-on bags so even if you have a small bag, you may be required to check it due to its weight. And if you have any additional flights within Europe that are booked on low-cost carriers, they may have weight restrictions for carry-on and checked luggage and may charge a premium if your luggage is over their weight limit.
Q. How should I dress/pack for this trip?
A. You'll receive a full packing list for the tour that will help guide you. You will not need any dress clothes per se as we will not being going out anywhere that would require them. Lightweight travel pants, tops, dresses and/or skirts will be most comfortable.
Our rule of thumb is not to bring more than two pairs of shoes–one pair for walking and perhaps a pair of sandals, tennis shoes or small boots (depending on the weather forecast).
The weather in Scotland can be unpredictable. We may have beautiful sunny warm days or we may have grey, cool and rainy days. The evenings could get quite chilly. It's best to prepare for the worst and plan on bringing layers so that if/when it warms up during the day, you can wear your warmer weather clothes.
Q. Would you recommend taking a raincoat?
A. Definitely bring a lightweight raincoat. One that is lightweight will pack down relatively small and allow you to wear it on warm and cold days.
Q. How do you fit everything into a carry-on and still have room for souvenirs?
A. We encourage you to pack light and do hand laundry along the way. You may, like many of our tour people do, purchase a bag for souvenirs that you can check for the flight home.(or use your duffel from the Aran islands!) once-in country to bring home souvenirs.

6. TECHNOLOGY including CELL PHONES, CAMERAS and COMPUTERS
Q. Is WiFi available at the hotels?
A. Expect WiFi (usually complementary) at all of our accommodations.
Q. What sort of power adaptor do I need?
A. Scotland uses what's considered a type G power plug. It should look like this>>>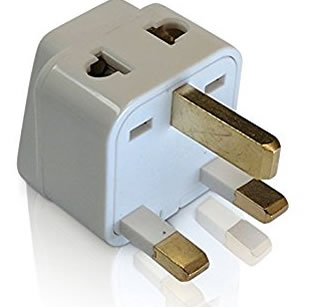 Q. Will I need a converter for my electrical devices?
A. You will need a converter for any devices unable to handle 220 (hair dryer, curling iron, etc.). Most electronics these days (such as a laptop and iPad) have a built-in converter that protects the device from power surges.
Q. Can I use my cell phone in Scotland?
A. There are a few ways you can use your cell phone in Scotland. First, consider buying an international data plan from your provider. Most providers offer an international data plan where you purchase a certain amount of data and have a month to use it. Alternately, many providers offer day passes so you only pay (usually $10) for the day you're using the plan. You can use this for maps, internet, phone, texting, apps, etc.
Second, you can simply turn your data roaming off and only use your phone when there's WiFi. If you require regular access to the internet, you could purchase a hotspot such as a Solis Skyroam where you'll have your own personal WiFi connection. These are great but a bit pricey–they're best if your provider doesn't offer an international plan or if you travel A LOT and can justify the cost of it over time.
Third, if you have an unlocked phone, you could buy a local sim card and use a data plan on the local network.

7. MONEY, GIFTS, TIPS
Q. What's the currency used in Scotland?
A. Pounds are used in Scotland. Consider downloading an app such as XE so that you have quick access to the exchange rate.
Q. Are ATMs available?
A. There will definitely be ATMs available throughout the trip. You'll want to let your bank know in advance that you are traveling so they don't deny usage of your card thinking it's a fraudulent charge.
You'll also want to find out what, if anything, your bank changes for international ATM withdrawals. If it's based on each transaction, you'll want to take larger amounts of money out rather than making numerous small withdrawals so as to limit the charges.
Q. How much money should I bring with me?
A. We get this question a lot, and it really does depend on your spending habits. Because you'll have relatively easy access to cash through ATMs and you can make purchases using a debit or credit card, you likely won't need much cash in hand. Having said that, bringing some small bills to tip a taxi driver or bellman upon your arrival and before you've had a chance to change money might be helpful.
Q. How should I best carry my money?
A. While Scotland is a safe country, there are opportunistic thieves everywhere looking for a way to separate you from your cash. You might consider carrying your passport, credit/debit cards and cash in something like a neck pouch or a large wallet like this one from Baggallini. You could then put that in a larger cross-body bag.
Q. Is tipping appropriate?
A. The majority of tips for the driver/guide and any other guides we have is covered under your trip cost. Having said that, small tips for your waiter and for our driver/guide would be appreciated if they've gone above and beyond your expectations.
Q. Do you suggest we bring gifts for the locals?
A. It's certainly a nice gesture (but not necessary) if you have small gifts to leave with friends you make along the way. Things that might be appropriate include souvenirs from your home town including items with logos (Seattle mugs or baseball caps, for example), chocolate or coffee. We will have a local female guide accompanying us throughout the tour and (likely) a male driver.

8. WANDERTOURS TRAVEL DETAILS
Q. Do I need insurance for this tour?
A. Until the pandemic has been declared over, we ask that all tour participants acquire travel insurance. We have now partnered with Travel Insured International so that you have ability to purchase "cancel for any reason" insurance. We HIGHLY recommend travel insurance (no matter who your provider is) to protect your travel investment from any future issues. Although we are technically not requiring it, you will be asked to sign additional paperwork acknowledging the risk of traveling without insurance.
Q. Is there a schedule for installment payments?
A. We don't have anything formal set up but you can definitely send in payments on your own schedule. Some people send in monthly payments while other people send in payments when it's convenient.
Q. Will I receive a refund if I have to cancel my participation in this tour?
A. Once you have paid a deposit, there is a cancellation fee if you cannot join us. The cancellation fee depends on the tour and how far in advance of the tour you cancel. Our refund policy is covered in our Booking Terms and Conditions and is also outlined on the Registration Form that you'll receive within 24 hours of registering with a deposit.
Any refunds will be sent by check within two weeks of our receiving written notification of your cancellation (email notification is fine). We will respond via email and ask for confirmation of your mailing address for any refunds. Address must be confirmed within six months, otherwise expect forfeiture of refund as we close out our books at that time.
Q. Will you be sending an updated itinerary with our overnight accommodations so we can leave it with folks at home?
A. Yes, you'll receive the hotel information as well as emergency contact information one or two weeks before departure (note: it is subject to last-minute changes).
Q. What's the emergency contact info that I can give my family?
A. About two weeks before your departure, you will be given a cell phone number for your tour escort and someone in-country employed by our local tour operator.