by Beth Whitman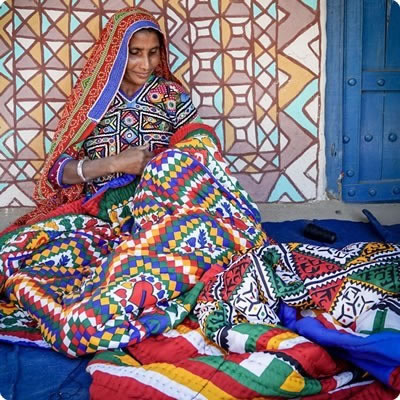 No matter where you go in India, you're sure to be blown away by its absolute awesomeness. But Gujarat? It will take your visit to India to a whole new level.
But that's not what I initially thought when our ground operator for India kept encouraging me to book a research trip to the region to experience it for myself. I was a bit reluctant. The closest I had come to Gujarat was travel to the neighboring state of Rajasthan. I really love Rajasthan, but to venture even further afield, to go to a state that is truly off the beaten path compared to other areas that are far more touristy? I wasn't so sure. What could it offer, I wondered?
Since I was already headed to India to escort our South India Women-Only tour group, I agreed to a visit.
For that initial trip, I worked closely with our ground operator on an itinerary that would include activities and sights that I thought not only would I be interested in but that our tour people would enjoy on a future trip.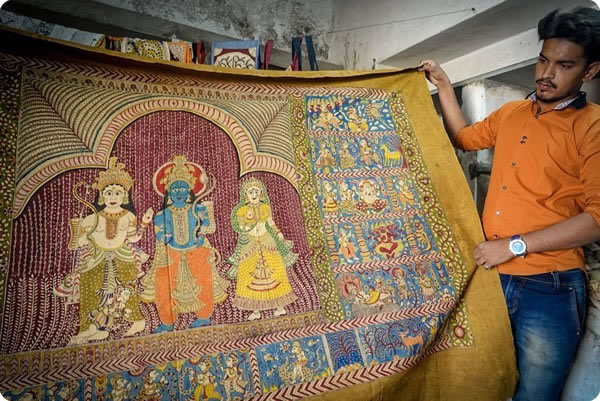 After spending a couple of days in Mumbai touring around and getting over jet lag, I flew to Bhuj where the real adventure began!
From Bhuj, we headed out to visit small villages located throughout the state. To get to them, we would drive sometimes hours on a highway, then take one-lane roads to get as close as possible to the village. Once there, our driver would park the car and we would then walk down dusty paths and alleys far too narrow for our vehicle.
It was along these unmarked alleys where the magic of Gujarat unfolded. We'd enter tiny homes and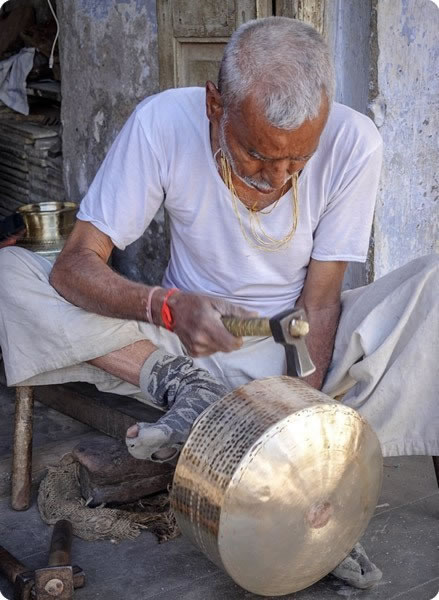 find world-renowned artists, famous for their tie dying (tie and dye as they call it in India), batik, embroidery, weaving, rogan, lacquerware or copper work.
These women and men have been practicing their crafts throughout their lives and the style and workmanship has been passed down in their families for generations. In some cases the work was so exquisite that I was literally brought to tears.
Usually I was the only foreigner in any given village, causing quite a stir and a flurry of whispers and laughter amongst the vendors and artists. But I was always met with a smile and welcomed into homes for a chapati and lemonade and an explanation on how the items were created.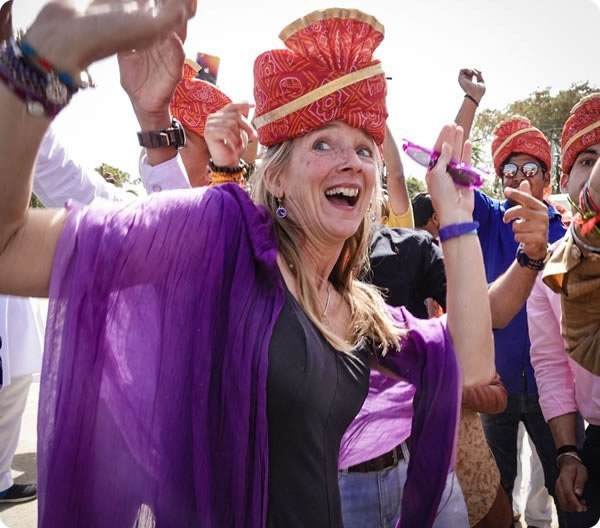 Because we had built in flexible time that would allow my guide to make last-minute changes based on her connections with the locals and because I was such an anomaly, I was invited to attend not one, but FOUR weddings in different villages!
My takeaway? After my time in Gujarat, I knew I had to bring this experience to our tour people. Though there is a sense of pride in what these artisans do, there's also a lack of awareness that what they are creating is some of the most beautiful textile and art in the world. These are talented individuals actively keeping their traditions alive with little to no knowledge of the world outside of their village but with a full understanding of what it takes to create quality artwork created with their own hands.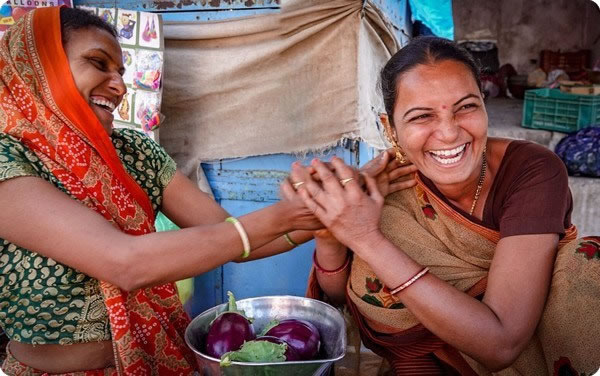 In short, their work should be shared with others.
Our Gujarat Tribes and Textiles Women-only Tour takes you to these small villages where you will meet these artists and see them at work. Our female guide in Gujarat is hands down the best in the region and has close ties with families who treat her as one of their own and, in turn, treat her guests (that's us!) as part of their family.
In addition to learning about (and shopping for) textiles and fine crafts, you'll also learn about the wide range of tribal groups that live in this part of the country. There are nearly 30 recognized tribes in this area, each with their own unique dress and customs. Here are a few you'll likely see: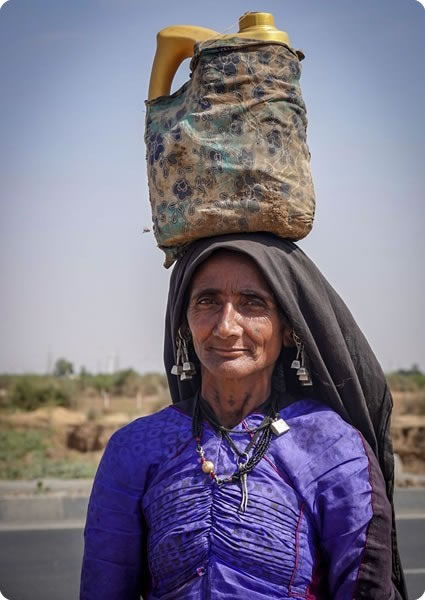 This woman is from the Wagadiya Rabari tribe. They are nomadic peoples who are often seen walking with their camel caravans along the roads of Gujarat.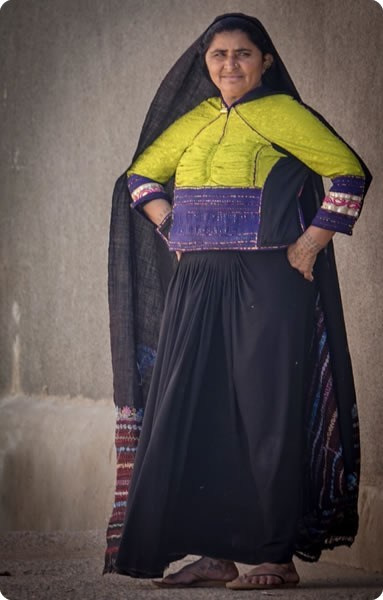 This woman belongs to the Dhehanya Rabari tribe. It's traditional for the women to wear black and, unlike many other tribal groups, they don't wear jewelry. This ensures that expensive jewelry won't be required for dowries.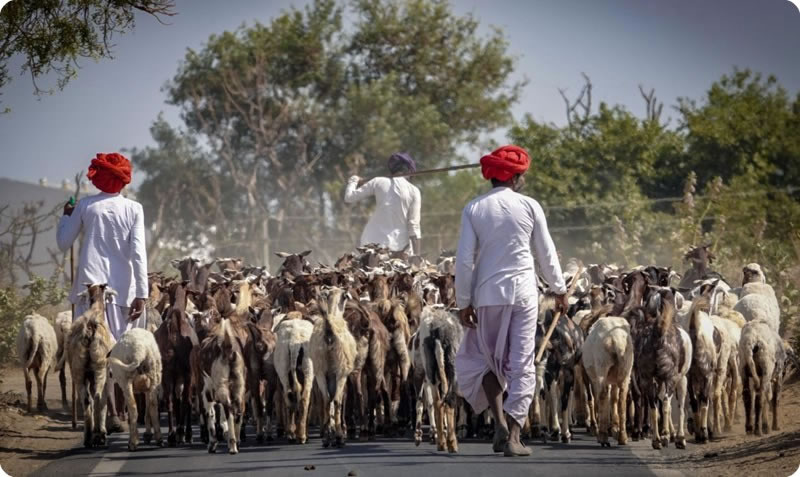 These goat herders are part of the Shihori Rabari tribe and can be regularly seen walking the roadways of Gujarat.
*****
There are fewer tourists in this part of India and therefore fewer hotels and restaurants. We've chosen properties such as beautiful tented safari camps as accommodations so as to provide unique experiences. All meals are included as we are often in remote locations where it's not possible to find restaurants.
Want to see more photos? Check out our Gujarat gallery!
Want to join this tour in March 2021? Register now with an $800 deposit!
Have questions? Contact us or call 206-317-1860 for more information!
I hope to see you in Gujarat!!!!
Beth